Spring Break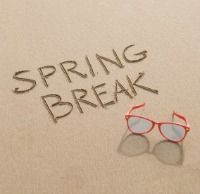 The second week of April was a magic time for Advent's guys and gals as they looked forward to no school and lots of time for going places and having fun.
The Summit girls started spring break by celebrating Easter with baskets of goodies and an Easter-egg hunt. Then on Monday the teens were at the Recreational Center having a great time in the pool and at the gym.
Meanwhile, the Gateway and St. John boys were on their way to Capitola for an exciting day of kayaking at the beach. The day culminated in an evening of fun and games with a Friendship Family.
On Tuesday, five eager girls and two staff packed and headed for Magic Mountain in Southern California, where they had the unusual luxury of checking into a hotel. The adventure was possible because they had done an exemplary job of raising funds for the outing.
Senior Counselor Bryanna Tabler reports, "This was an awesome trip since it was the first time our clients had been to this type of theme park."
One of the teens squealed, "The Superman ride was the best part of the whole trip!"
The young ladies loved spending two nights in the hotel, with the highlight being that they were able to relax in the spa and pool after a long day of walking around Magic Mountain.
But all good times must come to an end, and on Thursday the exhilarated kids (and exhausted staff) were heading back to the Summit home, stopping at the beach for a picnic lunch on the way.
The boys and counselors were having cool adventures on Tuesday when they arrived at China Lake in Point Lobos National Park. Then on Wednesday they were packing their lunch and heading for Six Flags Discovery Kingdom theme park in Vallejo.
An excited teen exclaimed, "I'd never been on a roller coaster before. It's way fun!"
The Oakland Coliseum welcomed the Advent boys on Friday morning as they watched batting practice by the pros, then were in awe as they joined the rest of the fans for an A's game.
As the week came to a close for the guys, it was off to Hollister on Friday for a work day at TAG Paintball. Then Saturday they all returned for some Paintball fun.
Spring break concluded with our kids being refreshed and glowing with appreciation for a wonderful week filled with new experiences.
A BIG thank you to everyone who donated to our spring break fund- a-need.