Golfers, Little White Balls & Cupcakes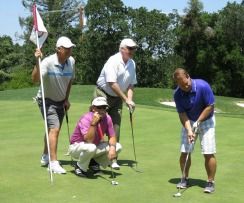 The excitement took place on May 4 at Advent's 17th Annual Mary & Martha Golf Classic held at La Rinconada Country Club in Los Gatos.
The beautiful day began with registration and practice shots on the putting green. The 100 golfers then hopped into their golf carts and headed out on the course, where delicious hamburgers were being grilled for lunch.
The hole-in-one car—a 2008 Basalt Black Metallic Porsche Carrera—was provided by Clint Ralls, owner of Road Sport.
Jay and Alene Williams, enthusiastic advocates, were again seen hitting little white balls for Advent's kids. "We have been playing in this tournament every year but one."
Justin Madison, a first-timer, beams, "I was in a foursome with Felix Jasso, Bob Ukestad and Bernard O'Neil. We all had a wonderful day of camaraderie that started with prayer, continued with joy, sunshine, good food and laughter, and ended with overflowing generosity that jerked tears whether they wanted to come or not."
Justin adds, "There was a powerful testimony by a young man whose life has been forever changed by God's love demonstrated by those working at Advent. The young man grew up never feeling loved or accepted by his family, so he turned to drugs and the wrong crowd in search of love and acceptance. That led to a life of pain and misery away from God. But through Advent, this young man was given help, loved, and shown a better way to live, which continues to this day. He is married with kids, a loving family, and a good job."
How much would you pay for a dozen exquisite cupcakes? What would you be willing to pay if you knew the money was going to bring hope and healing to Advent's kids and families?
Amazingly, two dozen cupcakes went for $500 each, getting the live auction off to a whirlwind start and setting the tone for the rest of the bidding.
When the live auction came to a close, emcee Larry Hester announced a surprise $5,000 challenge that even his wife Jackie didn't know was coming! Justin reports:
"A lasting impression was left on me at the end of our gathering when Larry said they always wished they had more items to auction off every year and he challenged everyone with his $5,000 pledge and asked others to raise their hands if they were willing to meet the challenge. Outpours of generosity arose as many hands went up, raising an additional $30,000 for the kids."
The event brought in a total of $162,788, with $5,000 bid for the hottest auction item—cooking lessons and dinner for 16 at La Rusticana d'Orsa.
Justin concludes, "It truly was an amazing sight to see God moving people to give generously to a worthy cause. I thank God for His kindness, as He is the giver of every good and perfect gift, and that whole day was wrapped and delivered with His bountiful goodness."