Helping Kids While Hitting Golf Balls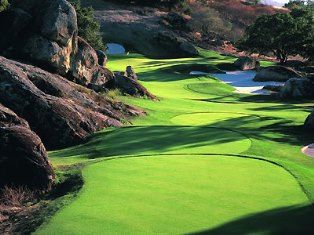 Located high above the Santa Clara Valley in San Jose, Boulder Ridge provided an enchanting atmosphere for Advent's 16th Annual Mary & Martha Golf Classic & Live Auction Banquet, presented by The Horton Family Foundation.
The unique character of the course comes from giant prehistoric boulders, and every round at Boulder Ridge proved to be a magical experience for our golfers. Wildlife spotted on the course included turkeys, jackrabbits and deer.
Participants began arriving at the clubhouse on June 16, filled with enthusiasm and excitement as they registered and received their tee prizes—a sleeve of golf balls and a beautiful backpack.
As the golfers sauntered around the room, they viewed the auction and raffle item displays while pondering which ones they'd like to have.
The putting green was a whirl of activity as players practiced their shots. Then came the 11 o'clock announcements, followed by 85 eager competitors gliding onto the green in their golf carts.
A striking 2005 black Porsche Carrera—the hole-in-one car—graced the green and encouraged the golfers to give it their best shot. For over 10 years Clint and Michele Ralls, of Road Sport, have provided a luxury vehicle to entice the players, but so far no one has scored and had the thrill of driving a car home.
Identical twins Martha (Marty) Barclay and Mary Crandell, tournament enthusiasts for the 14th consecutive year, were this year's banquet sponsors with their tee sign boasting:
DOUBLE TROUBLE
DOUBLE BLESSING
Brad Abel exclaims, "It was an absolutely perfect day of weather, on a beautiful new course overlooking Almaden Lake. The course was challenging and very well maintained, and the staff were extremely organized and did a great job. Everyone I spoke with had a really good day and we're all looking forward to next year's event!"
Hors d'oeuvres were served on the patio as guests arrived and milled around chatting and checking out the auction items. The banquet followed at 5 o'clock, with tournament committee chair, Larry Hester, thanking our many generous sponsors. Each one was given a mug filled with Hershey Kisses hand painted by an Advent teen and a sincere thank-you note attached.
The program focused on outgoing CEO Mark Miller, who received a standing ovation as he was honored for his 42 years of service working with kids, first at CityTeam Ministries and then at Advent.
A dynamic live auction followed dinner, with the hottest items being the Deluxe Sports Package, which sold for $3,100, and the Puerto Vallarta condo going for $2,500.
Though the number of golfers was down this year, support was strong, with the golf classic netting over $93,000.
Mark mused, "I thought our crowd of golfers was remarkably inspired by the work of Advent. This was especially apparent by the enthusiasm of the auction bidding. Many of the items were bid well over their retail value, simply because the audience was in the spirit of helping the Advent kids."