Advent Welcomes a New Board Member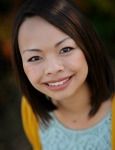 In April, Rebekah Laffoon was enthusiastically welcomed to the Advent Board of Directors.
She is looking forward to becoming an integral part of the board and comes with a wealth of expertise, as well as exceptional credentials as a licensed marriage and family therapist. Her passion is to help individuals, couples and families through skillful guidance and compassionate care.
Rebekah received her bachelor's degree in psychology from the University of California, Berkeley, and received her master's degree in marriage and family therapy from Western Seminary.
Her journey with Advent Group Ministries began when she worked in the ministry as a clinical trainee and later as an associate intern, providing psychotherapy to chemically dependent adolescents and their families. Another aspect of her internship included seeing clients through Advent's counseling center.
Rebekah has also provided counseling services to the community at Monte Vista High School in Cupertino and Christian Counseling Center in San Jose.
Additionally, she brings to the board her years of experience working as an executive assistant and grant writer in the development department at CityTeam Ministries.
Rebekah, her husband Andrew, and two daughters attend WestGate Church in San Jose, where Andrew and Rebekah serve in the Life Groups Ministry.