Reminiscing About Christmas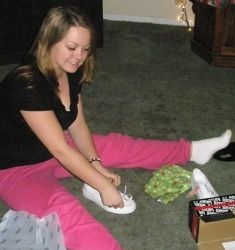 Thanks to many generous donors, our Advent clients have many cheerful memories of fantastic Christmas festivities, including a visit from Santa bearing tons of gifts.
Extraordinary generosity from the following groups brought incredible happiness to our kids as they opened their beautifully wrapped packages:
• West Metro Kiwanis of San Jose
• Saratoga Presbyterian Church
• Morgan Hill Presbyterian Church
• Morgan Hill Giving Circle of Friends
• Morgan Hill Presbyterian Church
• Gifts for Teens
The Outpatient Program had several parties, with the first being at the Crest site in Morgan Hill on December 17. Nine guys and one gal dined on pizza and dessert, while sharing with each other what they were especially thankful for during the year. The gifts of clothes, shoes and gift cards were then distributed, which brought grateful grins from all.
Another party for eight teens was held on December 18 at the Advent office. They read How the Grinch Stole Christmas and then indulged in pizza and tasty treats.
Karen Shomura, clinical director, quizzed the kids regarding what they knew about the real Christmas story, and sadly it turned out they didn't know much! One guy said, "Wasn't there a Red Sea that was parted?" What an opportunity for Karen to share the biblical narrative about the true gift of Christmas!
The teens then opened their many presents, and one of them received a cuddly bear that he was hugging … so cute!
The group home parties were on December 28, with Kevin Maurer, group home supervisor, wearing a Santa outfit and playing the role of Mr. Claus. He delighted the kids with his jolly Ho! Ho! Ho! and lots of presents.
Santa's first stop was the Summit home, where the excited girls waited with great expectation for his arrival. They opened presents that included makeup, clothing and electronics. One teen had asked for yarn and exclaimed, "I can't believe this is all for me!"
In the midst of opening presents, one of the clients excused herself and was gone for about five minutes. The staff thought it was strange and were getting a little concerned. Then the teen returned with handmade Christmas cards with a personal note to each one, sharing how grateful she was for them and their funny stories. The counselors were deeply touched and hugs went all around.
After opening gifts, the young ladies were super happy when they found out they had dinner reservations at Maggiano's at Santa Row that afternoon.
"Everyone was so excited to be there," says Natessa Martinez, childcare worker," and they dressed up like they were going to the prom!"
That same night the girls were taken to The Festival of Lights at Vasona Park in Los Gatos, and several became very emotional and began crying. They shared that they had never experienced such a great Christmas before and described themselves as "overwhelmed with happiness."
Next, Santa was on his way to the St. John home, where each boy received gifts of electronics, clothing, (even nice dress shirts) and gift cards.
One young man exclaimed, "I've never gotten this many presents in my life."
Finally, St. Nick made his way to Gateway to distribute more gifts, and another very special time was underway for the kids at that group home.
Stephanie Simunic, development associate, shared, "The appreciation gushed from these kids, and one teen wanted to know who gave all the gifts!"
When the holiday excitement was over, the clients made thank-you cards for the gracious donors, and the remembrance of Christmas was shared by all.