Walking The Stage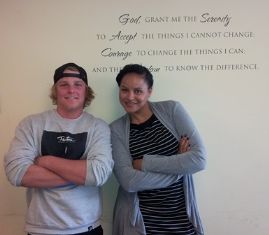 Belinda, a 17-year-old senior attending a community school in the Fremont Union High School District (FUHSD), recently had the privilege of walking the stage with her class.
According to Starlene Soto, FUHSD clinician, "Walking the stage is not a given once a student has been expelled from high school. It is an earned gift and not always an option and depends on the circumstances of each student's expulsion. Belinda had this right because she successfully completed the Step Up! program."
A party followed graduation as ten of Brenda's friends enjoyed pizza, soda and ice cream cake while celebrating her triumph and wishing her well.
A certificate of completion was presented to the graduate, along with a special recovery coin, which was given the mojo of ongoing success and continued sobriety.
The mojo is the equivalent of well wishes and/or blessings. The coin was passed around to the graduate's peers, and as each one held the coin, experiences were shared and they talked about how they felt about Belinda and her achievements. It was a tender moment.
Another graduation was celebrated on June 3, with Richard receiving his high school diploma two days after completing the Step Up! program. A feast followed the event as the kids devoured barbecued chicken, corn on the cob, soda, chips and salsa, finishing it all off with Richard's favorite chocolate cake.
David, an 18-year-old client, was in Step Up! since February 2013 and had been attending the program five days a week. He made excellent progress and eventually got down to coming one or two days a week until he graduated on April 22.
Tiffany Irving, outpatient clinician, says, "David really became a leader and made an impact on the other clients in the group, getting them to think of their own futures. As his program came to a close, I would even have him help me with teaching. He took a lot of pride in his recovery program."
Following graduation, David got a part-time job at a yogurt shop and would bring positive reports from his boss to show Tiffany and his probation officer (he even recently got a promotion!). He plans to go to college in Santa Cruz in the fall.
Another 17-year-old graduate had been in the program one year and made immense progress during her stay. When she started attending she was smoking weed and engaged in binge drinking almost every weekend, along with experimenting with a slew of other drugs.
She has now recognized how her substance use has interfered with her drive to reach certain goals in life, and she has taken significant steps to change her lifestyle. And one of those goals was working wholeheartedly towards graduation from the Step Up! program.
This graduate has now successfully completed probation and plans to maintain sobriety so she can eventually attend Evergreen Community College, followed by a four-year college to obtain a degree in psychology and become a counselor.
Her party included pizza, hot Cheetos puffs and smoothies to celebrate her many accomplishments. The mojo coin was passed around the circle of friends as they shared things they learned from the graduate, and each person put something into the coin that they wanted the graduate to take with her.
Peers encouraged her to keep persevering toward her goals, as well as sharing their admiration for her hard work ethic, for which she received a medal. In response, the client encouraged her peers to be willing to try new things, such as going to recovery meetings, in order to graduate. "It is a worthwhile endeavor," she promised.
Charlie was introduced to Step Up! shortly after his father had died of alcoholism. When he came to Advent he was struggling with anxiety, tension and a habit to cope that put him in legal trouble.
With the help of many, including his probation officer, the young man was able to become clean and stay clean. According to Charlie, "From the program I was learning how to jump through the hoops of life."
Tiffany remarks, "Part of his treatment was providing a motivation for sobriety. We were then able to discuss a plan for college and support him in his decision."
After his graduation at a community college in Sacramento, the young man will be starting school where he will work toward a business degree. He has even established a paid internship with his sponsor, whom he found through the Step Up! program.
A graduation party was held in his honor, and Charlie's probation officer and a previous graduate showed up to support the client's victory.
Tiffany concludes, "I watched him grow as he began to take accountability for his actions. We can only hope that the seeds we planted will live on in his demeanor, actions and spirit."
Graduates, we are proud of you and wish you every success as you seek to fulfill your hopes and dreams!