Birthday Party Shockeroo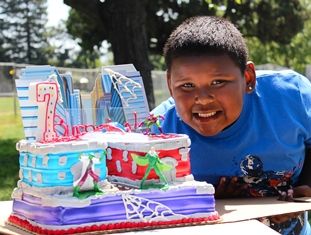 It's difficult to imagine what it must be like to be a six-year-old boy who has never experienced the fun of having a birthday party of his own. But that's the way it was for the son of a heartbroken mom residing at The Refuge.
Barbara Gonzalez, house mom at the women's shelter, shares an inspiring story.
"This little boy had never had a birthday party. I talked with his mom and she cried when I told her I would help her throw a party for him."
She explains, "The mom has partial custody of her son, who has been put in the foster system, and she is currently in a program at The Refuge that will enable her to get him back full time."
The surprise party was held May 31, the day after the boy's seventh birthday, and he was caught totally off guard because he'd been told he was going to a party for a little girl.
The youngster was so excited about wishing the "birthday girl" a happy birthday that he wasn't even thinking about his own birthday. Then when everyone started cheering and singing Happy Birthday to him he was shocked, and the expression on his face was priceless. His mom was so overwhelmed that she couldn't stop crying seeing her child so happy.
With all the generosity from friends and family, Barbara was able to hire a Spiderman impersonator, who made the birthday boy his assistant as he entertained the partygoers.
The kids feasted on barbecued hot dogs with all the trimmings, and then finished it off with a Superhero birthday cake.
Gifts for the little tyke included clothes, lots of toys and games, all the Superhero figurines, a Surprise Batman Jumper, and even a Bible. Then Superhero masks were given to all the guests.
A snow cone machine was donated for the festivities, and they also had a fun piñata filled with candy. But no matter how many times the kids hit the piñata it just would not break … and the kids weren't even blindfolded!
"I can't thank people enough for the joy they brought this mom and her son. Everything she wanted for her little boy he got … and more!" Barbara exclaims.
"Many friends were involved in making this dream come true for a very special little boy. They were all amazing!" she beams.