Daniel Mahan, Interim Executive Director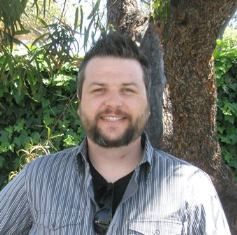 Over the past 12 years, Daniel Mahan has done just about everything imaginable in support of Advent's programs and services. Originally hired as resource development associate, he unexpectedly found himself promoted to development director, and during the next five years he was instrumental in raising more than $2.5 million.
Daniel says, "I loved fundraising, as it gave me a great opportunity to tell people about the amazing work Advent's been doing for the last three decades. I was also able to meet the many incredible donors and volunteers who make it all possible. But I was excited when the Chief Administrative Officer (CAO) position became available in 2007, and it felt like the perfect time to expand my ministry and utilize skills I'd studied in college."
A graduate of San Jose State University's School of Business, Daniel has brought his expertise to a wide variety of jobs at Advent. In addition to managing the day-to-day finances and administrative operations, his position as CAO required that he be responsible for filling a number of roles—office manager, IT supervisor and fleet manager—while also working directly with Advent's Board of Directors and serving on finance, golf tournament and strategic planning committees.
"Diversity really is one of the most challenging and rewarding things about working in the nonprofit world," Daniel adds. "You learn skills that you would not be able to learn in a for-profit company. At the same time, the pressures of having so many responsibilities can prove challenging and necessitates that the entire staff team lean on one another during the difficult times."
Daniel's current position comes with a whole new set of challenges, but he believes his extensive responsibilities over the last decade, as well as his close working relationship with outgoing CEO Mark Miller, will serve him well.
"I've spent a lot of time working with Mark throughout my time at Advent, and as far as I'm concerned, I learned from the best. No one has put more time, energy and love into making Advent what it is today. I've been blessed to serve under Mark and witness what it takes to lead. I'm confident that with our incredible staff team, our dedicated supporter base, and God's faithfulness, Advent will continue to thrive well into the future."