Gateway School to Reopen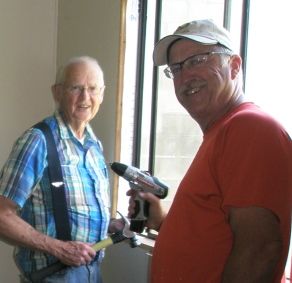 As Advent is preparing to reopen its school program, the place is bustling with activity as hammers are swinging and saws are buzzing.
The onsite school will open its doors on August 19 at the Gateway group home in San Martin, where the facility had previously been up and running. During the interim, the boys have been going to a community school, and having the school onsite again will be advantageous for staff and students.
When it was determined that this project would be pursued, the portable housing unit for the school had been vacant for years and was in very poor condition. Among the repairs needed were new exterior wood stairs and a porch; exterior and interior walls; sheetrock for one interior wall; as well as interior paint.
Two remarkable Morgan Hill retirees have stepped up to bat to help complete this renovation project—Mark Markham and Dave Raymaker. Over the past month Mark and Dave have been faithfully going to the Gateway home to work, and the school building transformation has been incredible.
Mark is a former counselor with the Morgan Hill junior high and high school. He says, "Mark Miller has been a friend of mine since Advent started (over 25 years ago). When we heard Advent needed help for this project, we came. The clients of Advent need an education. I hope the reopening of the school will put Advent on the map."
He continues, "I admire Advent in so many ways. One of them is seeing the staff's commitment to the program and how some have stayed a long time."
Dave was previously a firefighter with the Morgan Hill Fire Department. He shares his reaction to the remodeling, "After we started to peel back the layers and see how much work it was going to be, it was like...Wow...! But other volunteers, like David Demetrus, have come and been a great help. It's nice."
Both Dave and Mark attend Morgan Hill Presbyterian Church and they have known CEO Mark Miller for many years.
Along with their work at the school, they also helped at the Beautiful Day work party in April (see story here). Their construction knowledge and dedication produced a beautiful redwood carport!
The school will reopen on Monday, August 19—a dream made possible because of the diligent work of Mark and Dave.
Advent has nothing but accolades for these generous, hard-working volunteers who have performed a miraculous renovation at the Gateway school!
Mark Miller exclaims, "These two men have been graceful and generous beyond belief. I am so grateful for their hard work and supreme talent. They are both gems."